Frankenhooker
---
Episodes about Frankenhooker :
DRtL Episode 55: Back From The Dead!
[ 56:38 | 51.85 MB ]
Play in Popup
|
Download
Hello, horror fiends! Did you have a good New Year's? And, uhhh, a good Martin Luther King Jr. Day, Chinese New Year, Groundhog Day, Valentine's Day, and Mardi Gras — ? So, yeah, it's been a little while since our last episode, is what we're saying, here. Between Michael being out of town a lot, and Jen losing her job, her house, and then her Grandmother in rapid succession, there's been a hell of a lot of so-called "real life" cutting into our podcasting time.
But now we're Back From The Dead, and what better way to celebrate that than with an episode about horror movies where people return from the grave? We're not talking ghosts, or vampires, or zombies — we'vddde done episodes on all of those already. We're talking all the other revenants of every type and description.
Along the way, we talk about Letterboxd, a site for keeping track of the movies you watch; the late, lamented iMDB message boards; the critical role of politics in the horror genre; and the online horror movie offerings of services like Shudder and Fandor. All that and more is waiting for you in the latest episode, so stuff it into your eager brainmeats, let us know what you think in the comments, and as always, be sure to rate and review us on iTunes to let your fellow horror fans know we're worth checking out. It's great to be back — thanks for listening, and we will be back in two weeks.
DRtL Episode 26: Brains! I Mean, Zombies!
[ 1:22:53 | 37.94 MB ]
Play in Popup
|
Download
Welcome back to Don't Read the Latin, the podcast that brings you horror movie news, reviews, and opinions every two weeks! Or three weeks. Or thereabouts. (I'd swear we used to be better at this.)
Anyway, join us as we come lurching back from the grave to discuss zombies! Even though neither Michael nor Jen consider ourselves zombie fans, per se, it turns out there are a ton of zombie films we really like. A whole horde of them, you might say. Although it turns out we have our disagreements as to just what, exactly, constitutes a zombie film ….
Look At Our Shorts!
Curious about the zombie kangaroo short film Michael mentions? Well, of course you are, right? Here it is — WATERBORNE:
Also, just to round things out, here's another short film that we didn't remember to mention during the podcast, but a couple of listeners had recommended it to us and it's pretty damn awesome — THRESHER.
_____
Spread the Word!
A zombie outbreak spreads pretty quickly. But word-of-mouth about a podcast doesn't go quite so far and wide. If you love Don't Read the Latin — and we sure hope you do — won't you take a minute to help other horror fans find us by clicking one of the social sharing buttons below, or leave us a review on iTunes? It means the world to us. Thanks!
Don't Read The Latin! Episode 20: Guilty Pleasures!
[ 1:39:11 | 45.4 MB ]
Play in Popup
|
Download
First, a word of warning. At one point during this episode, we propose a drinking game — that you drink every time we say something to the effect of, "This is not a good movie." Do not do this. You will die.
That said — join Michael and Jennifer as we drag our secret stash of schlock out from the back of our video collections into the light. First we define just exactly what it is we mean when we call something a "guilty pleasure," and then we're off and running! Expect lots of giggling in this episode.
Don't Read the Latin! Episode Seventeen: We Kind of Like the 90's!
[ 1:38:17 | 22.56 MB ]
Play in Popup
|
Download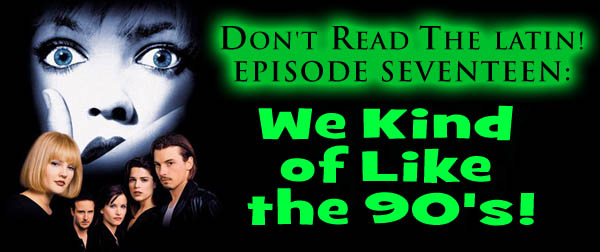 Hello, boys and ghouls, welcome back once again to another episode of Don't Read the Latin! This time, after our in-depth two-part episode on the 80's, we're going to dive into a, well, slightly less-loved decade, but one that still has more than a few gems in it. Join us, won't you? You'll learn more about Jennifer's seemingly random Hollywood crushes, the too-cool-for-film-school pretentiousness of The Addiction and The Prophecy, and which movie features Billy Zane at his Billy Zaniest!
Bonus YouTube Videos!
In our discussion of Stigmata (oh, Stigmata, you're not a good movie, but we kind of like you anyway), Jennifer brings up a Chumbawumba song from the soundtrack that's really kind of awesome. If you've only ever heard that "I get knocked down" drinking song of theirs, you really need to put this in your ear-holes.
https://www.youtube.com/watch?v=__YHRv5VuDI
Finally, here's the channel introduction for Count Jackula, the horror review show that we mention:
Don't Read the Latin! Episode Eleven: Horror Comedies
[ 1:02:54 | 14.46 MB ]
Play in Popup
|
Download
Welcome to another Halloween season episode of your favorite horror movie podcast! (At least, we assume we're your favorite horror movie podcast. If we're not, please don't tell us.)
In this episode, Jennifer rants about Kevin Smith, whose recent film, "Tusk," seems to be one inside joke aimed at the fans of podcast. (We here at Don't Read the Latin promise that if we ever make a movie of our own, we're not going to just pander to our existing fanbase — we intend to pander to everyone.)
We also talk about economy of storytelling, Harlan Ellison, Jen's Big Black Gothic Yard Sale, and Michael's upcoming Halloween reading!
No Context For You
"Speaking of soft-core pornography …. "
"I'm Aware I'm making poor choices."
"I have a whole bunch of 'Night of the … ' movies."
Speaking of Michael's Halloween reading: