Posts Tagged 'Sometimes They Come Back'
Hello, horror fiends! Did you have a good New Year's? And, uhhh, a good Martin Luther King Jr. Day, Chinese New Year, Groundhog Day, Valentine's Day, and Mardi Gras — ? So, yeah, it's been a little while since our last episode, is what we're saying, here. Between Michael being out of town a lot, and Jen losing her job, her house, and then her Grandmother in rapid succession, there's been a hell of a lot of so-called "real life" cutting into our podcasting time.
But now we're Back From The Dead, and what better way to celebrate that than with an episode about horror movies where people return from the grave? We're not talking ghosts, or vampires, or zombies — we'vddde done episodes on all of those already. We're talking all the other revenants of every type and description.
Along the way, we talk about Letterboxd, a site for keeping track of the movies you watch; the late, lamented iMDB message boards; the critical role of politics in the horror genre; and the online horror movie offerings of services like Shudder and Fandor. All that and more is waiting for you in the latest episode, so stuff it into your eager brainmeats, let us know what you think in the comments, and as always, be sure to rate and review us on iTunes to let your fellow horror fans know we're worth checking out. It's great to be back — thanks for listening, and we will be back in two weeks.
Podcast: Play in new window | Download
Subscribe: RSS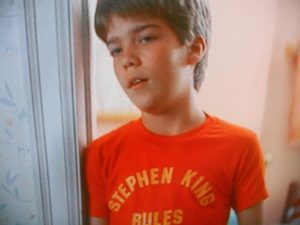 Hail to the King — namely, Stephen King, that household name of horror, the Maine Man himself! As any horror fan will tell you, Stephen King has had more than his fair share of movie adaptations, not all of them good. Well — maybe, most of them really not that good. But! We persevered here at DRtL, and dove right into our retrospective. We mostly remembered King's films as being fairly light, fun, popcorn movies — but join us as we realize how wrong we were, and just how many of the genuinely horrifying aspects of human nature are lurking under the surface of King's work, like a clown in a sewer.
Not to say we didn't have fun with the topic. See for yourself. Or, I guess, hear for yourself!
Podcast: Play in new window | Download
Subscribe: RSS