The Frighteners
---
Episodes about The Frighteners :
DRtL Episode 59: Favorite Horror Actors!
[ 1:20:59 | 74.14 MB ]
Play in Popup
|
Download
Welcome back to Don't Read the Latin, where in this episode, we're talking about our favorite horror movie actors — the scream queens, sinister villains, and creepy little character actors who populate the films we love. These are the people we love to watch over and over again, the performances that can get us into the theater every time. We're sure you'll know and love many of these screen icons as well, and hope that you'll learn some new names you should be looking out for, as well. Let us know if there's anyone else you think we should have mentioned!
(Thanks for your patience with our slight delay in getting this episode to you, and we ask your patience with the weird little pop-and-hiss that crept into the audio of this episode. It's pretty mystifying — we used the exact same audio setup as we have for the past couple of episodes, and we didn't have this trouble then. Perhaps you could pretend we're having this conversation while sitting next to a crackling campfire? Or not. Suit yourselves.)
DRtL Episode 55: Back From The Dead!
[ 56:38 | 51.85 MB ]
Play in Popup
|
Download
Hello, horror fiends! Did you have a good New Year's? And, uhhh, a good Martin Luther King Jr. Day, Chinese New Year, Groundhog Day, Valentine's Day, and Mardi Gras — ? So, yeah, it's been a little while since our last episode, is what we're saying, here. Between Michael being out of town a lot, and Jen losing her job, her house, and then her Grandmother in rapid succession, there's been a hell of a lot of so-called "real life" cutting into our podcasting time.
But now we're Back From The Dead, and what better way to celebrate that than with an episode about horror movies where people return from the grave? We're not talking ghosts, or vampires, or zombies — we'vddde done episodes on all of those already. We're talking all the other revenants of every type and description.
Along the way, we talk about Letterboxd, a site for keeping track of the movies you watch; the late, lamented iMDB message boards; the critical role of politics in the horror genre; and the online horror movie offerings of services like Shudder and Fandor. All that and more is waiting for you in the latest episode, so stuff it into your eager brainmeats, let us know what you think in the comments, and as always, be sure to rate and review us on iTunes to let your fellow horror fans know we're worth checking out. It's great to be back — thanks for listening, and we will be back in two weeks.
DRtL Episode FIFTY: Our Top Fifty Favorite Horror Movies!
[ 1:17:30 | 70.95 MB ]
Play in Popup
|
Download
"Let's make this bullshit happen!"
" …. Is that going to be our new motto from now on? Actually, that might look good on stickers, now that I think about it."
So hey, check us out! Fifty episodes! That's kind of a lot! And to celebrate, we are counting down the TOP FIFTY HORROR MOVIES OF ALL TIME!
Okay, well, no. We're not going to pretend that we're being at all objective. What we're actually doing is our Our Top Fifty Favorite Horror Movies! You're actually getting more than fifty, because Jennifer and Michael have each brought their own lists, so listen in as they compare the movies they love the most. (Presented in chronological order, so as not to descend into complete chaos.) Just in time for you to figure out what you want to watch for Halloween!
All this and more, as Jen tells us about a recent unpleasant incident in a movie theater, a documentary on the murder of Kitty Genovese, and completely spoils the ending of "The Changeling!"
We also talk about movies we've seen recently, including Blair Witch. If you just want to skip directly ahead to the Top Fifty goodness, you will find it at the 27-minutes-and-15-seconds mark.
Hope you enjoy this one!
_____
Please rate our podcast on iTunes!
The more reviews and ratings we have, the easier it is for people to find us. If you'd like to hear another fifty episodes of Don't Read the Latin and would like to help us reach more people, please click here to rate our podcast on iTunes and leave your comments. It will only take a few minutes out of your day, but your feedback can make a huge difference to us. Thanks for everything, you guys.
DRtL Episode 46: Horror Double Features!
[ 1:29:45 | 82.17 MB ]
Play in Popup
|
Download
If you're starting to plan your Halloween party — and if you're not, you'd better get on that, you only have 104 days left — we have totally got you covered this episode. Want to show your friends a couple of movies? This episode we talk about Horror Double Features and give our picks for what movies pair together well, like pairing cheeses and fine wines. While we're at it, we talk about just what exactly makes two movies go together well as a single viewing.
Spoiler Warnings
We discuss the endings of both 10 Cloverfield Lane and Ex Machina. If you don't want to hear the details, skip forward a couple of minutes when you hear us mention those titles.
Technical Notes:
We mention at the beginning of this episode that we were recording it on our laptop and on our new audio recorder, because Montoure didn't trust that the recording was actually, you know, recording. And it's a damn good thing he's paranoid, because it turns out that the recorder did not save a file at all. The quality the first time we used it was great, and it will be a fine tool to add to our podcasting arsenal if we can ever figure out how to use the damn thing.
The Bag of Fucks
We mention in passing The Bag of Fucks, which is an awesome hand-made creation by our friend Dmitri Arbacauskas at Tormented Artifacts. When you have just run out of fucks to give, here's the bag you could load some more into. (Or you can just open the bag if you want to show people that it is, indeed, empty.) You can get one of these beauties here if you are so inclined.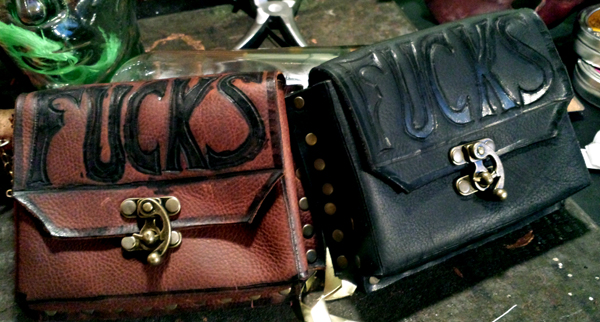 Other Podcasts
Jennifer mentions a few of her new favorites among the podcasts she listens to, so if you'd like to check those out, here they are:
In the News
Since we brought up Chopping Mall, a movie about security robots gone rogue in a shopping center, we naturally talked about a related story in the news recently, and in case you missed it, here it is: A mall security robot has knocked down and run over a toddler in Silicon Valley.
Thanks for Listening!
If you like the show, don't forgot to follow us and rate us on iTunes! You can also subscribe to the podcast on Stitcher, and you can follow us on Facebook, Twitter, and Tumblr. Remember that we love you and that we think you look adorable when you're sleeping.
Don't Read the Latin! Episode Seventeen: We Kind of Like the 90's!
[ 1:38:17 | 22.56 MB ]
Play in Popup
|
Download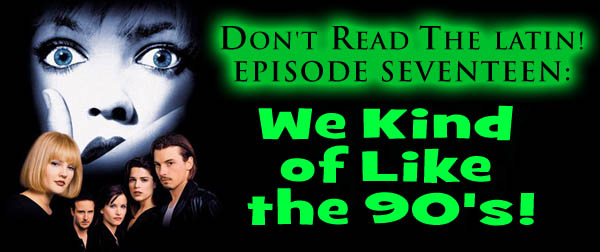 Hello, boys and ghouls, welcome back once again to another episode of Don't Read the Latin! This time, after our in-depth two-part episode on the 80's, we're going to dive into a, well, slightly less-loved decade, but one that still has more than a few gems in it. Join us, won't you? You'll learn more about Jennifer's seemingly random Hollywood crushes, the too-cool-for-film-school pretentiousness of The Addiction and The Prophecy, and which movie features Billy Zane at his Billy Zaniest!
Bonus YouTube Videos!
In our discussion of Stigmata (oh, Stigmata, you're not a good movie, but we kind of like you anyway), Jennifer brings up a Chumbawumba song from the soundtrack that's really kind of awesome. If you've only ever heard that "I get knocked down" drinking song of theirs, you really need to put this in your ear-holes.
https://www.youtube.com/watch?v=__YHRv5VuDI
Finally, here's the channel introduction for Count Jackula, the horror review show that we mention:
Standard Podcast
[ 1:42:22 | 23.49 MB ]
Play in Popup
|
Download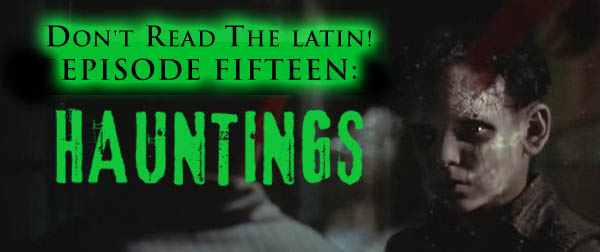 It's almost Christmas, and you know what that means — ghost stories! (Well, according to Charles Dickens, anyway.)
We already covered Haunted Houses back in Episode Nine, but this time we're getting out of the house and exploring haunted apartment buildings, orphanages, and more! Remember, kids, ghosts can strike anywhere at any time. Happy Holidays!
Don't Read The Latin! Episode Eight: Found Footage
[ 1:11:34 | 32.83 MB ]
Play in Popup
|
Download
"It's not like [Rob Zombie] is out there strong-arming small children for their candy money."
"Although — you can kinda picture that, can't you?"
"I kinda can, yeah."
Felicitations, fright fans! Are you ready to face a fantastic festival of fearsome found footage films?
…. All right, that's enough alliteration for one post. Welcome to another episode with your hosts Jennifer Lovely and Michael Montoure, as we bring you the skinny on horror cinema's fastest-growing sub-genre, and discuss its strengths and limitations.
Expect chills, thrills, and more:
Why found footage films don't try to emulate Blair Witch's improvised scenes
Scooby Doo as a gateway drug to horror
Our guilty fondness for the recent Scooby Doo: Mystery Incorporated series
How The Blair Witch Project lead the way for small-budget productions like The Battery and Jug Face
Jennifer rants entertainingly about Rob Zombie, Amanda Palmer, and crowdfunding
A blink-and-you'll-miss-it LMFAO reference, and a mention of Christian Bale's spectacular on-set meltdown
Montoure has this episode's "Fuck This Noise" moment, with the indie horror feature "All Cheerleaders Die"
Let us know what you think, and thanks for listening!