Fully in the Bag: Ghostbusters 2016
---
Episodes about Ghostbusters (2016) :
Standard Podcast
[ 1:07:41 | 61.97 MB ]
Play in Popup
|
Download
Happy Halloween, Latin Club! We're excited to get to bring you a new episode on our favorite holiday of the year. This time (ha! Get it?), we're talking about Time Loops and Time Travel! (And amazingly enough, Michael somehow gets through the entire episode without mentioning Doctor Who even once!) Also, Jen talks about taking the Scarecrow Video Psychotronic Challenge, and about Shudder, the curated Amazon Video horror-movie channel!
Spoiler Warnings — Usually, we try not to give away crucial plot elements of the movies we discuss on DRtL, but that was a little tricky with this episode — since with a lot of the films we mention here, the very fact that the plot does involve time-travel shenanigans is actually meant to be a surprise. So if you are particularly spoiler-sensitive, you might want to skip this episode, and you maybe shouldn't even look at the tags on the blog post. Sorry!
Alternately, if you encounter any spoilers you wish you hadn't heard — just go back in time and warn yourself not to listen! Problem solved.
(Looking for something a little more seasonally-themed? Hop in our time machine and travel all the way back to 2014's Episode 10: It Happened on Halloween! for an episode that's all about movies set on or around Halloween!)
_______
Please rate our podcast on iTunes!
The more reviews and ratings we have, the easier it is for people to find us. If you enjoy  listening to Don't Read the Latin and would like to help us reach more people, please click here to rate our podcast on iTunes and leave your comments. It will only take a few minutes out of your day, but your feedback can make a huge difference to us. Thanks for everything, and we hope you get nothing but the very best full-size candy bars in your trick-or-treat bags this year.
DRtL Episode 48: Ghostbusters! (Part Two!)
[ 1:14:20 | 68.06 MB ]
Play in Popup
|
Download
Welcome back! The whole gang is back — your hosts Michael Montoure and Jennifer Lovely and our guests Jillian Venters, Jeff Harris, and Handsome Boyfriend Jim — for part two of our special Ghostbusters episode! (Hopefully, this will be a less disappointing sequel than Ghostbusters II was.)
Last time, we talked about the original Ghostbusters films and the animated series — this time out, we're discussing the Xbox videogame and the 2016 reboot movie. And about the fanboys who came after the reboot with pitchforks and torches before the first trailer even came out. We've got some opinions. Hold on to your butts. (Yes, that's a Jurassic Park reference in a post about Ghostbusters. Sorry, purists.)
_____
Bonus Materials
Here's a photo of Jim's well-loved copy of the Ghostbusters table-top role-playing-game. (We're pretty sure we actually discussed the RPG last episode, but we forgot to post this picture then. Whooops.)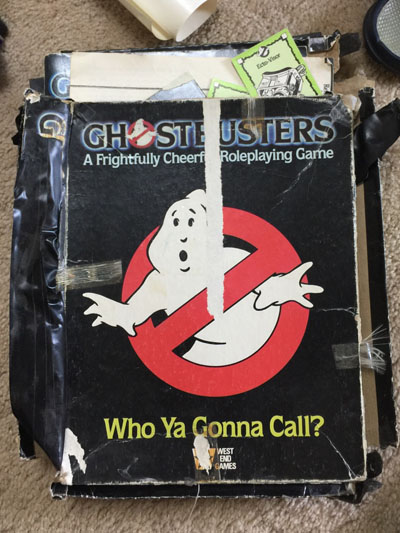 Finally, here's a screenshot of Montoure's Tumblr post that that went a little bit viral, and was partly the impetus for making this two-part episode in the first place:
DRtL Episode 47: Ghostbusters! (Part One!)
[ 1:09:15 | 63.4 MB ]
Play in Popup
|
Download
"Peter Venkman has a lot to answer for in modern society."
Who ya gonna call?! Well — you can't call us, exactly, because this is all pre-recorded. (But you can always post comments at our website, and review us on iTunes!)
That's right, ghosts and ghoulies — Don't Read the Latin is back with a special two-part episode! For the first time in the entire history of ever, we're devoting an entire episode to a single franchise! We were so excited by the new Ghostbusters movie, we decided it was time to sit down with some of our favorite guests and talk about Ghostbusters in all media past and present.
Join your hosts Michael Montoure and Jennifer Lovely and our guests Jillian Venters, Jeff Harris, and Handsome Boyfriend Jim for a look at the original films and the animated series! (But first, a discussion of the horror movies we've seen lately! If you just want to skip ahead to the Ghostbusters content, it starts at the 24 minute, 27 second mark.)
Then join us in two weeks for Part Two as we discuss the videogame and the 2016 reboot — and the Internet controversy it's spawned!
________
Bonus Features