Posts Tagged 'Splice'
Welcome back! Joining us for another episode of Don't Read the Latin is Jillian Venters from Gothic Charm School! This time, in the wake of election results that are arguably more terrifying than any movie we've ever discussed, we decided to get our feminist rant on and sat down to talk about The Monstrous Feminine — the idea of women as monsters in horror movies and pop culture.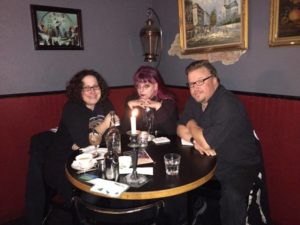 Along the way, we discuss Gothic romance novels, Halloween Horror Nights at Universal Studios, the role that Mad Max: Fury Road played in the beginning of Jen's relationship with Handsome Boyfriend Jim, and we wonder why the hell Marvel keeps burying pretty actors under way too much prosthetic makeup, and we wrap it all up with the topic of older women having a voice and taking up space in our society. We don't necessarily do a great job of sticking rigidly to our topic in this episode, but we sure hope you'll think it's an interesting conversation. Check it out.
_____
Bibliography
Books we mention in this episode:
_____
Mister Babadook
As mentioned in this episode, Jen's copy of the crowdfunded prop replica/movie tie-in book from The Babadook has finally arrived! Here are some pictures of just how gorgeous it is. Click to embiggen:
Podcast: Play in new window | Download
Subscribe: RSS
If you're starting to plan your Halloween party — and if you're not, you'd better get on that, you only have 104 days left — we have totally got you covered this episode. Want to show your friends a couple of movies? This episode we talk about Horror Double Features and give our picks for what movies pair together well, like pairing cheeses and fine wines. While we're at it, we talk about just what exactly makes two movies go together well as a single viewing.
Spoiler Warnings
We discuss the endings of both 10 Cloverfield Lane and Ex Machina. If you don't want to hear the details, skip forward a couple of minutes when you hear us mention those titles.
Technical Notes:
We mention at the beginning of this episode that we were recording it on our laptop and on our new audio recorder, because Montoure didn't trust that the recording was actually, you know, recording. And it's a damn good thing he's paranoid, because it turns out that the recorder did not save a file at all. The quality the first time we used it was great, and it will be a fine tool to add to our podcasting arsenal if we can ever figure out how to use the damn thing.
The Bag of Fucks
We mention in passing The Bag of Fucks, which is an awesome hand-made creation by our friend Dmitri Arbacauskas at Tormented Artifacts. When you have just run out of fucks to give, here's the bag you could load some more into. (Or you can just open the bag if you want to show people that it is, indeed, empty.) You can get one of these beauties here if you are so inclined.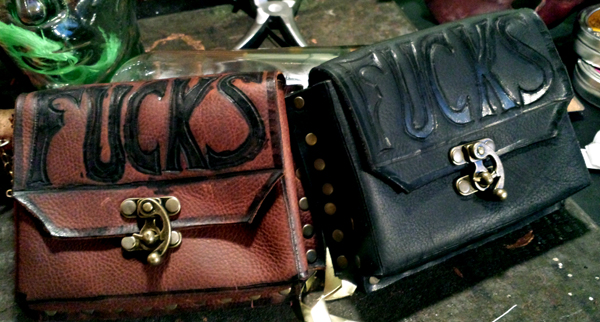 Other Podcasts
Jennifer mentions a few of her new favorites among the podcasts she listens to, so if you'd like to check those out, here they are:
In the News
Since we brought up Chopping Mall, a movie about security robots gone rogue in a shopping center, we naturally talked about a related story in the news recently, and in case you missed it, here it is: A mall security robot has knocked down and run over a toddler in Silicon Valley.
Thanks for Listening!
If you like the show, don't forgot to follow us and rate us on iTunes! You can also subscribe to the podcast on Stitcher, and you can follow us on Facebook, Twitter, and Tumblr. Remember that we love you and that we think you look adorable when you're sleeping.
Podcast: Play in new window | Download
Subscribe: RSS
Jennifer Lovely was unable to make it to a recording session this week, since she is in the process of moving and is busy doing All the Things, so instead Michael Montoure is joined by horror movie aficionado Miranda Wolf! We've been meaning to have Miranda on the podcast for ages, and this seemed like a good time to do it.
We kind of flirt with the idea of having an overall theme for the episode, such as Slasher Movies, but it never quite happens. Join us as we talk instead about 80's slasher movies; Star Trek and Babylon 5 fans fighting in the streets; Montoure's literal scar from a science fiction convention; differences between the Hannibal TV series, books, and films; ideas for slasher movie role-playing games and the horror board game Betrayal at House on the Hill; puns about feet (so very, very many puns about feet); the literal and figurative horrors that are lurking within Miranda's Netflix queue; and so much more!
Podcast: Play in new window | Download
Subscribe: RSS