The Devil's Backbone
---
Episodes about The Devil's Backbone :
DRtL Episode 56: Horror En Español!
[ 1:19:37 | 72.9 MB ]
Play in Popup
|
Download
¡Hola! ¿Cómo te va todo? Welcome to the latest episode of Don't Read the Latin, where we talk about horror movies in Spanish! (And a handful of movies that are in English, but were made in Spain.) Get ready to turn on your subtitles and explore some of the best horror that the Spanish language has to offer.
Also, Jen tells us about some of the additional channels available on Amazon Prime Video, including Shudder and the British television channel Acorn TV, and about her days back when she worked in a video store! All this, the return of Jen's Documentary Corner, and much, much more.
As always, let us know what you think in the comments, and please take a minute to rate and review us on iTunes to let your fellow horror fans know we're worth checking out. Thanks!
DRtL Episode FIFTY: Our Top Fifty Favorite Horror Movies!
[ 1:17:30 | 70.95 MB ]
Play in Popup
|
Download
"Let's make this bullshit happen!"
" …. Is that going to be our new motto from now on? Actually, that might look good on stickers, now that I think about it."
So hey, check us out! Fifty episodes! That's kind of a lot! And to celebrate, we are counting down the TOP FIFTY HORROR MOVIES OF ALL TIME!
Okay, well, no. We're not going to pretend that we're being at all objective. What we're actually doing is our Our Top Fifty Favorite Horror Movies! You're actually getting more than fifty, because Jennifer and Michael have each brought their own lists, so listen in as they compare the movies they love the most. (Presented in chronological order, so as not to descend into complete chaos.) Just in time for you to figure out what you want to watch for Halloween!
All this and more, as Jen tells us about a recent unpleasant incident in a movie theater, a documentary on the murder of Kitty Genovese, and completely spoils the ending of "The Changeling!"
We also talk about movies we've seen recently, including Blair Witch. If you just want to skip directly ahead to the Top Fifty goodness, you will find it at the 27-minutes-and-15-seconds mark.
Hope you enjoy this one!
_____
Please rate our podcast on iTunes!
The more reviews and ratings we have, the easier it is for people to find us. If you'd like to hear another fifty episodes of Don't Read the Latin and would like to help us reach more people, please click here to rate our podcast on iTunes and leave your comments. It will only take a few minutes out of your day, but your feedback can make a huge difference to us. Thanks for everything, you guys.
DRtL Episode 31: The Kids Are Alright
[ 1:04:14 | 29.4 MB ]
Play in Popup
|
Download
Horror movies with kid heroes. It's a natural. How better to make an audience scared for your protagonist than to make him (or her) a young, vulnerable, innocent child? Throw in the "your parents will never believe you" trope, and you're set for some real scares. This episode, we salute the best child protagonists the horror genre has to offer.
Join Michael and Jennifer as they dissect the casting and plot direction of Hannibal's third season, play with an Angel puppet, talk about the Paul Stanley / Dee Snyder feud, and reveal the secret of how to get Jennifer's daughter to watch a movie that might be slightly scary. Listen in amazement as Michael fucks up immediately! (We talked about People Under the Stairs during the Wes Craven episode, not the Stephen King episode. Obviously.)
We apologize once more, I'm afraid, for the sound quality of this episode. We forgot to set up the powered USB port for the microphone, and therefore that "robots gargling underwater" background echo is back. Yay. Also you can hear traffic outside and Jennifer's cat meowing, although hopefully that last part is endearing. Anyway. We'll try to set things up a little better next time.
_______
Bonus Video
Here's a fan-made music video for the Scissor Sisters song Return to Oz that Michael mentioned:

_____
Bonus Tumblr Meme
For those who haven't seen it, here's the "Public Service Announcement" Michael mentions making on Tumblr, in a post that's received over 25,000 notes so far: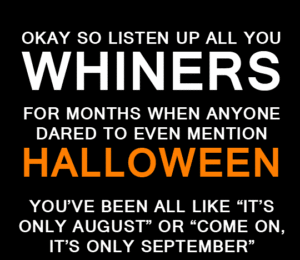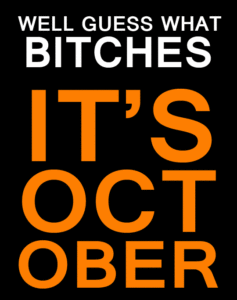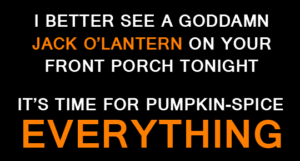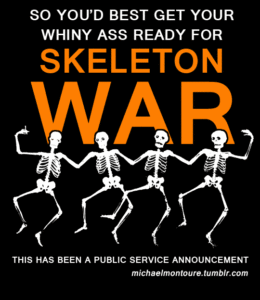 Standard Podcast
[ 1:09:46 | 31.94 MB ]
Play in Popup
|
Download
We're back from Crypticon! We had a pretty great time, and we're here to tell you about it. And Montoure has some selections from this year's Seattle International Film Festival! All of which turns out to be a good thing, because the topic we had chosen for this episode turns out to be a little thin on the ground. It sure seemed like creepy orphans and orphanages were a staple of the horror genre, but we ended up having to kind of stretch our definitions to find enough to talk about ….
Standard Podcast
[ 1:42:22 | 23.49 MB ]
Play in Popup
|
Download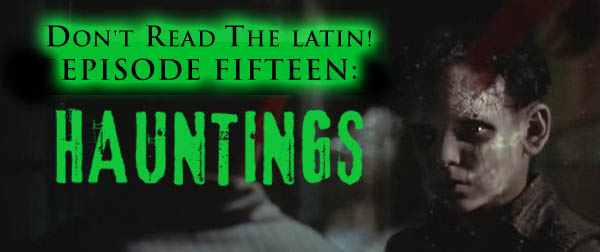 It's almost Christmas, and you know what that means — ghost stories! (Well, according to Charles Dickens, anyway.)
We already covered Haunted Houses back in Episode Nine, but this time we're getting out of the house and exploring haunted apartment buildings, orphanages, and more! Remember, kids, ghosts can strike anywhere at any time. Happy Holidays!