Posts Tagged 'Shutter'
"Let's make this bullshit happen!"
" …. Is that going to be our new motto from now on? Actually, that might look good on stickers, now that I think about it."
So hey, check us out! Fifty episodes! That's kind of a lot! And to celebrate, we are counting down the TOP FIFTY HORROR MOVIES OF ALL TIME!
Okay, well, no. We're not going to pretend that we're being at all objective. What we're actually doing is our Our Top Fifty Favorite Horror Movies! You're actually getting more than fifty, because Jennifer and Michael have each brought their own lists, so listen in as they compare the movies they love the most. (Presented in chronological order, so as not to descend into complete chaos.) Just in time for you to figure out what you want to watch for Halloween!
All this and more, as Jen tells us about a recent unpleasant incident in a movie theater, a documentary on the murder of Kitty Genovese, and completely spoils the ending of "The Changeling!"
We also talk about movies we've seen recently, including Blair Witch. If you just want to skip directly ahead to the Top Fifty goodness, you will find it at the 27-minutes-and-15-seconds mark.
Hope you enjoy this one!
_____
Please rate our podcast on iTunes!
The more reviews and ratings we have, the easier it is for people to find us. If you'd like to hear another fifty episodes of Don't Read the Latin and would like to help us reach more people, please click here to rate our podcast on iTunes and leave your comments. It will only take a few minutes out of your day, but your feedback can make a huge difference to us. Thanks for everything, you guys.
Podcast: Play in new window | Download
Subscribe: RSS
Welcome back — finally — to Don't Read the Latin! We're back after something like a solid month of not-podcasting, so let's see if we still remember how to do this! We would have had this episode done much sooner, but we were delayed by Michael's illness and then Jennifer's surgery, almost as if we were …. cursed. Hmmm.
Anyway! Join us as we wax rhapsodic about It Follows, visit Jen's Documentary Corner, and talk about the renaissance of excellent synthesizer-based horror soundtracks we've been getting lately. (And, not coincidentally, talk about Jen's love of collecting movie soundtracks on vinyl.)
_____
Music Bonus!
Here are a couple of links to the albums that Michael mentions this episode:
That second one is pay-what-you-want over at Bandcamp, so definitely check both of them out for retro synth-y goodness.
_____
Shout-Outs!
There are a couple of listeners we wanted to thank — first of all, thanks to commenter Kylie for her suggestion of Noroi: The Curse, which Michael watched based on her recommendation. Fun movie!
Secondly, many thanks to the listener who ran into Michael at Emerald City Comicon and told him this was her favorite podcast! Very, very cool. You made our month. (He didn't catch your name, though! Let us know who you are!)
Podcast: Play in new window | Download
Subscribe: RSS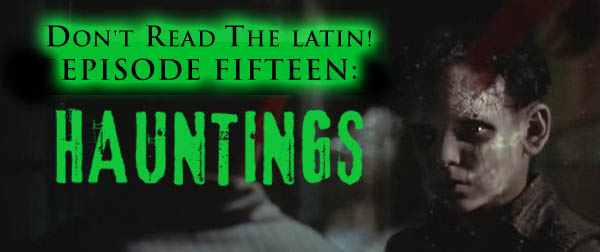 It's almost Christmas, and you know what that means — ghost stories! (Well, according to Charles Dickens, anyway.)
We already covered Haunted Houses back in Episode Nine, but this time we're getting out of the house and exploring haunted apartment buildings, orphanages, and more! Remember, kids, ghosts can strike anywhere at any time. Happy Holidays!
Podcast: Play in new window | Download
Subscribe: RSS