Posts Tagged 'Veronica'
Hello again, Latin Listeners, this time Rhias Hall and Jennifer Lovely look at Spanish spookiness, Mexican macabre, Honduran horror, and Venezuelan… vampirism? Okay, that kind of got away from me there.
Plus, your hosts out themselves as pro wrestling fans, and you'll hear Rhias use the term, "Inferred boners", which is now the name of my Motley Crue cover band. Enjoy!
Podcast: Play in new window | Download
Subscribe: RSS
A new episode appears! Your hostesses Jennifer and Rhias discuss horror with a religious bent. While we've done shows on the devil and exorcisms, this covers the general topic more broadly, hitting things like pagan religions and angels.
On a technical note, I'd like to apologize for the sound quality on this one, I hit the wrong switch on the mic so it's really crackly. I did the best I could, but it's definitely not my best work. However, without further ado, here's the picture of Rhias, Jillian Venters, and me, Handsome FIANCE Jim as we ride the Haunted Mansion all alone.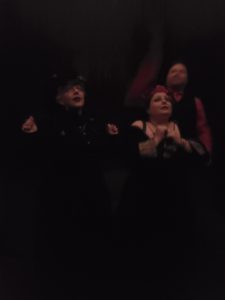 Podcast: Play in new window | Download
Subscribe: RSS
It's that time again, and Jennifer and Rhias are joined by Lisa (from the Noir! episode), and Jillian Venters of Gothic Charm School to talk about fairy tales: their horrifying origins, the stories of women they contain, and the movies that hold those things close to their celluloid hearts. Join them as they rip those hearts out and feast, including a few movies that you might not have thought of as fairy tales, then wind down with them as they discuss their own childhood stories and movies.
Handsome Boyfriend Jim note: At no point in this episode do they even mention "Hansel and Gretel: Witch Hunters" which I think is criminal, and Jen thinks I'm criminally tasteless for loving as much as I do. But I write these blurbs, so Hansel and Gretel gets its time in the sun!
Podcast: Play in new window | Download
Subscribe: RSS