Posts Tagged 'Annabelle: Creation'
Okay, it's not actually a new decade, but there certainly has been A decade, so we're going over our favorites of the last ten years! Join your hosts Jennifer Lovely and Rhias Hall along with special guests Jillian Venters of Gothic Charm School, and me, Handsome Husband Jim. let the countdowns begin!
Here's the movies that were on our various honorable mentions lists but didn't make the show:
Train to Busan
Let Us Prey
The Shallows
10 Cloverfield Lane
Hush
Trollhunter
What We Do In The Shadows
Late Phases
The Bay
Devil's Candy
Grave Encounters
A Quiet Place
Annihilation
Halloween (2019)
Tigers Are Not Afraid
Cabin In The Woods
(whew, that's a lot of movies, just think how many are in the actual episode!)
Podcast: Play in new window | Download
Subscribe: RSS
A new episode appears! Your hostesses Jennifer and Rhias discuss horror with a religious bent. While we've done shows on the devil and exorcisms, this covers the general topic more broadly, hitting things like pagan religions and angels.
On a technical note, I'd like to apologize for the sound quality on this one, I hit the wrong switch on the mic so it's really crackly. I did the best I could, but it's definitely not my best work. However, without further ado, here's the picture of Rhias, Jillian Venters, and me, Handsome FIANCE Jim as we ride the Haunted Mansion all alone.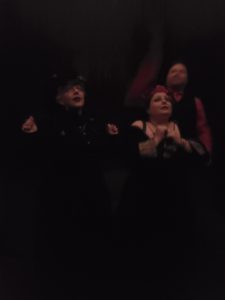 Podcast: Play in new window | Download
Subscribe: RSS