Posts Tagged 'The Blackcoat's Daughter'
Hey there, it's time for another Don't Read the Latin! This time around, Rhias Hall and Jennifer Lovely talk about folk horror. They're not on the same page as to what makes a movie folk horror, but Max the yelling cat soon sets them straight.
Podcast: Play in new window | Download
A new episode appears! Your hostesses Jennifer and Rhias discuss horror with a religious bent. While we've done shows on the devil and exorcisms, this covers the general topic more broadly, hitting things like pagan religions and angels.
On a technical note, I'd like to apologize for the sound quality on this one, I hit the wrong switch on the mic so it's really crackly. I did the best I could, but it's definitely not my best work. However, without further ado, here's the picture of Rhias, Jillian Venters, and me, Handsome FIANCE Jim as we ride the Haunted Mansion all alone.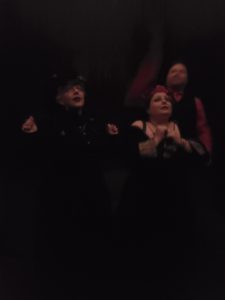 Podcast: Play in new window | Download
Hello, Latin Club! If you've been following us for a while, then you know we've had our episodes in the past about Wes Craven and John Carpenter — but there are so many other horror movie directors whose work we avidly follow. We don't necessarily have a full episode's worth of things to say about each and every one of them, so we thought, why not do a grab-bag of everyone who's work we admire? Join us as we discuss our Favorite Directors!
(The Media List for this episode is a little spotty — we mentioned a lot of movies very briefly in passing that did not make it into the Media List, but hopefully everything we discuss in any detail should be listed here.)
As always, let us know what you think in the comments, and please take a minute to rate and review us on iTunes to let your fellow horror fans know we're worth checking out. Thanks!
_______
COME SEE US AT CRYPTICON!
If you're a horror aficionado in the greater Seattle area, you probably know that next weekend (May 5-7, 2017) is Crypticon Seattle, the largest gathering of fans of the the macabre in the Pacific Northwest. Both of us are on panels this year, and if you enjoy our podcast, you should come see us babble excitedly about horror movies in person! Hope to see you at the Doubletree. Come introduce yourselves! We love meeting listeners!
Jennifer's Panels:
Pacific Northwest Horror Enthusiasts and Friendship Society — Friday at 6:00 pm in Evergreen 3
Underrated Masters of Horror — Saturday at 3:00 pm in Cascade 3
What Makes Horror Relevant Beyond the Genre? — Saturday at 4:00 pm in Cascade 3
Podcasting Mixer — Sunday at 1:00 pm in Evergreen 3
Michael's Panels:
Pacific Northwest Horror Enthusiasts and Friendship Society — Friday at 6:00 pm in Evergreen 3
What Was It About the 80's? — Saturday at 3:00 pm in Cascade 5
Reading: Michael Montoure — Saturday at 4:30 pm in Cascade 2
Who Would Win? — Saturday at 8:00 pm in Cascade 7
Have We Outgrown the Ghost Story? — Sunday at 11:00 am in Cascade 3
Podcasting Mixer — Sunday at 1:00 pm in Evergreen 3
Alternate Cuts — Sunday at 2:00 pm in Cascade 7
Podcast: Play in new window | Download