Posts Tagged 'Jennifer 8'
No, you're not seeing double — this really is another episode of Don't Read the Latin, after just two weeks! On time, in other words! Believe me, no one's more surprised by that than we are. Won't you both sit down? Wait, weren't there two of you just a moment ago? We could have sworn ….
Oh, well. This time out, Michael Montoure and Jennifer Lovely, your Twosome of Terror, have doubled down on their research to bring you Doubles and Doppelgängers, a look into the twins, clones, shapeshifters, and other creepy identical duplicates that have graced the silver screen over the years. Grab a pair of headphones and give it a listen. If you like it, don't forget to leave us a comment. Or two.
_______
Bonus Features
First up, here is the short horror film that Jennifer mentions, Doppelganger:
…. Which is by the same director as one of our favorite horror comedy shorts, Meat:
And lastly, for that extra Creep Factor, check out this article about real people who allegedly encountered their paranormal doubles throughout history: 10 Disturbing Tales Of Doppelgangers!
Podcast: Play in new window | Download
Subscribe: RSS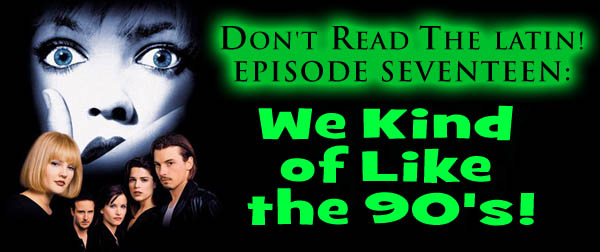 Hello, boys and ghouls, welcome back once again to another episode of Don't Read the Latin! This time, after our in-depth two-part episode on the 80's, we're going to dive into a, well, slightly less-loved decade, but one that still has more than a few gems in it. Join us, won't you? You'll learn more about Jennifer's seemingly random Hollywood crushes, the too-cool-for-film-school pretentiousness of The Addiction and The Prophecy, and which movie features Billy Zane at his Billy Zaniest!
Bonus YouTube Videos!
In our discussion of Stigmata (oh, Stigmata, you're not a good movie, but we kind of like you anyway), Jennifer brings up a Chumbawumba song from the soundtrack that's really kind of awesome. If you've only ever heard that "I get knocked down" drinking song of theirs, you really need to put this in your ear-holes.
https://www.youtube.com/watch?v=__YHRv5VuDI
Finally, here's the channel introduction for Count Jackula, the horror review show that we mention:
Podcast: Play in new window | Download
Subscribe: RSS