Cat's Eye
---
Episodes about Cat's Eye :
Don't Read the Latin Episode 53: Horror Anthologies!
[ 1:07:37 | 61.91 MB ]
Play in Popup
|
Download
Welcome back to Don't Read the Latin, as Michael and Jennifer delve into the world of Horror Anthologies — only to realize that they don't actually like them very much. But, as always, we accentuate the positive, and concentrate on talking about the ones we do like. So if you like your horror movies in bite-sized chunks, this is the episode for you!
We also end up talking about reboots, why we actually like them, and why they work so well on television. Check it out!
____
Bonus Video
Here's a great little animation sent to us by our Tumblr follower circa1891!
Standard Podcast
[ 1:19:20 | 36.31 MB ]
Play in Popup
|
Download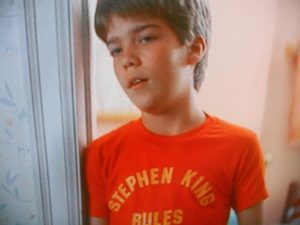 Hail to the King — namely, Stephen King, that household name of horror, the Maine Man himself! As any horror fan will tell you, Stephen King has had more than his fair share of movie adaptations, not all of them good. Well — maybe, most of them really not that good. But! We persevered here at DRtL, and dove right into our retrospective. We mostly remembered King's films as being fairly light, fun, popcorn movies — but join us as we realize how wrong we were, and just how many of the genuinely horrifying aspects of human nature are lurking under the surface of King's work, like a clown in a sewer.
Not to say we didn't have fun with the topic. See for yourself. Or, I guess, hear for yourself!