Insidious
---
Episodes about Insidious :
Don't Read The Latin! Episode 61: Witches!
[ 1:21:23 | 82.26 MB ]
Play in Popup
|
Download
Welcome back! This episode marks a new, exciting time for Don't Read the Latin, as Michael Montoure has decided to step back from co-hosting for now as he has a lot on his plate at the moment. Jennifer Lovely is still happily here, though, discussing horror movies and her love of them, and each episode will have a rotating cast of co-hosts joining her. There will be many of the voices you've heard in previous episodes, and we can all look forward to some new ones joining the mix, too!
In this episode she is joined by Jillian Venters of Gothic Charm School (http://www.gothic-charm-school.com/) and they are discussing witches and witchcraft, although we know it's simply taboo!
Onward to an all-new era of Don't Read the Latin adventures!
Standard Podcast
[ 1:09:09 | 63.31 MB ]
Play in Popup
|
Download
…. And once again after slightly too long a hiatus, we return once more with another episode of Don't Read the Latin!
This time out, we're talking about heroines in horror. Horror movies tend to have more female protagonists than practically any other genre, which is something we both love about them. At some point, we plan on having a Feminism in Horror episode where we'll delve into why we think that is and examine just how horror treats its female characters. But for now, we just want to talk about some scream queens we've known and loved, from our favorite classic final girls all the way to, well, The Final Girls. Give it a listen, tell your friends, and as always, we look forward to your comments.
Standard Podcast
[ 1:44:29 | 23.98 MB ]
Play in Popup
|
Download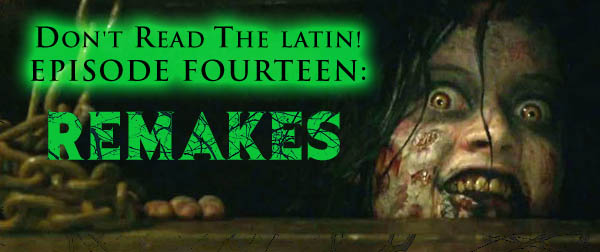 Whether you love them or hate them, the horror remake is here to stay. (Hollywood loves to feast on its own dead.) Join Jennifer and Michael as they delve into the best, the worst, and the most completely pointless.