Posts Tagged 'Fright Night (2011)'
After Labor Day comes the fruits of our labors: a new episode! In this one, your hosts Jennifer Lovely and Rhias Hall are joined by their vampire expert friend, Jillian Venters of Gothic Charm School! Together, they discuss their favorite vampire movies you might not know about, from the 30's until today!
Sadly, I, Handsome Fiance Jim, did not have time to rewatch some of my obscure favorites, so you are spared a mention of Blood and Donuts, To Sleep With The Vampire, and Embrace of the Vampire… or are you? Muah ha ha ha ha ha!
Podcast: Play in new window | Download
Subscribe: RSS
You know what we're talking about — you're home for a sick day, or maybe you've just straight-up run out of fucks. In either case, it's time to crash on the couch with a pint of ice cream. Or maybe not — maybe it's just time to try to get something done around the house that you've been putting off, like tackling that mountain of laundry, and you just want a movie to put on that won't demand your full attention.
However it goes, you reach for a comfort movie — something you've already seen a zillion times, but just don't get tired of. The cinematic equivalent of comfort food. A big ol' audio-visual bowl of macaroni and cheese. Maybe with the emphasis on "cheese." (As such, this episode sometimes strays way, way far out of strict horror movie territory. We promise you'll be entertained anyway.)
We are joined this time by the always-charming Jillian Venters, the Lady of the Manners herself, from Gothic Charm School!
Podcast: Play in new window | Download
Subscribe: RSS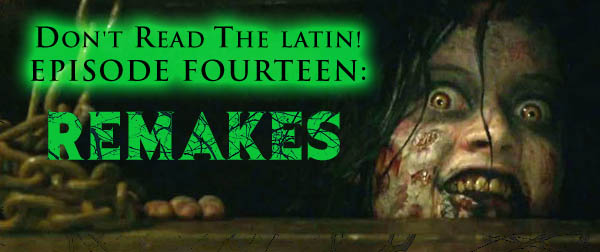 Whether you love them or hate them, the horror remake is here to stay. (Hollywood loves to feast on its own dead.) Join Jennifer and Michael as they delve into the best, the worst, and the most completely pointless.
Podcast: Play in new window | Download
Subscribe: RSS