Posts Tagged 'The Martian'
Last episode, we took one last look at 2015, and this time out, we're looking ahead at the year to come, as we discuss new releases we're looking forward to (and some we're not.)
While we're at it, we also talk a little bit about what we'd like to see from horror movies in general, and we talk about other things we enjoyed in 2015 that didn't qualify for last episode's topic. Also, Jennifer talks about why she's not that crazy about Benedict Cumberbatch; Michael discusses his love of horror movies that clearly spell out a rigid set of rules, and oh so much more.
_____
Bonus Pictures
The Shirtless Jeff Goldblum mug that Michael bought Jennifer for Christmas, because he knows what she likes: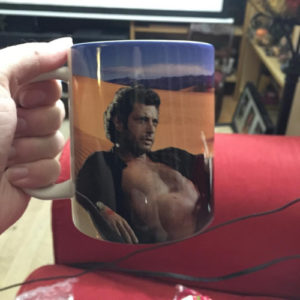 And some images from Over the Garden Wall:
Podcast: Play in new window | Download
Subscribe: RSS
---
Wooo-hooo, look at us! We swore we would have a new episode ready in two weeks and by God we actually did it.
Inspired by our recent viewing of Crimson Peak, this time we're taking a look at Horror Romances! Even though the course of true love never quite runs smooth in a horror movie — it's hard to give someone your heart when they really do want your heart, and they're willing to use their sharpest knives to get it — we're cuddling up as close to this topic as we can get. Do join us, won't you, dear?
Podcast: Play in new window | Download
Subscribe: RSS